Fitzroy Daley jailed for killing Eric Paul in knife attack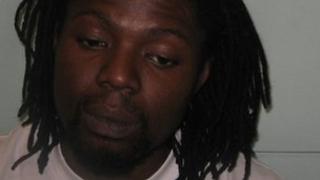 A man who stabbed to death the partner of his ex-girlfriend's friend has been jailed for 10 years.
Fitzroy Daley, from Bow, killed Eric Paul, 50, after the pair fought outside a pub in east London on 22 December.
The Old Bailey was shown CCTV footage of Daley attacking Mr Paul from behind as he walked along Devons Road after their "minor scuffle" outside a pub.
A jury acquitted the 36-year-old defendant of murder but found him guilty of manslaughter.
Mr Paul, who had taken cocaine, was behaving erratically and was verbally aggressive to other customers shortly before he was killed.
The court heard Mr Paul was stabbed several times with a six-inch kitchen knife.
A post-mortem examination found the cause of death to be a stab wound to the chest, which had gone through Mr Paul's ribs, into his lungs and pierced his heart.
He had also suffered two other stab wounds to the chest and a wound to his left forearm which had gone right through to the bone and would have left his arm paralysed.
'Brutal violence'
No-one witnessed the attack but Mr Paul's body was found by passers-by who called emergency services and attempted to administer first aid, but he was declared dead, the court heard.
Prosecutor Victor Temple QC said the pair knew one another through Daley's former girlfriend, Karen Dobkin, who was friends with Mr Paul's partner, Lesley Knipe.
Det Insp Andy Manning, who led the investigation, said: "Fitzroy Daley used brutal violence to settle what was essentially a minor dispute with Eric Paul.
"His actions have deprived Mr Paul's long-term partner and her children a father figure and devastated his family."