Richmond Park dogwalkers chased by protective deer
3 June 2013

From the section

London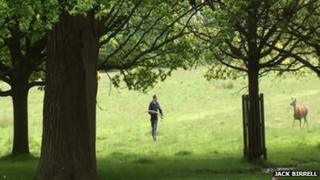 Dogwalkers have been chased by deer trying to protect their fawns at Richmond Park in south-west London.
The Royal Parks said a late spring meant there was less bracken for deer to hide their young in and they became "protective and aggressive."
Dogwalker Jack Birrell said he had seen "quite a few [people]....running for their lives" during birthing season.
The Royal Parks said: "Females and their young are very vulnerable and sensitive to disturbance at this time."
Mr Birrell who walks his dog in the park twice a day said: "This year it's been pretty bad because of the bad weather and it happens when they go away from the babies, if they see anybody or a dog then they really panic.
'Shaken and still wary'
"They [the dogwalkers] were taken completely by surprise."
Mr Birrell said that on Sunday one man told him he had been chased for 20 minutes and another couple said they had been chased by 11 hinds and were "shaken and still wary".
The Royal Parks said: "It is not advisable to walk your dog in the parks during this time. If you choose to, at your own risk, please keep your dog on a lead and consider an alternative route.
"If pursued by a deer, let go of the lead. The deer are less likely to charge if the dog runs away from them."
It added that all visitors should keep at least 50m (55 yards) away from the deer.
Park manager, Simon Richards, said: "Deer have roamed freely in The Royal Parks since 1529 when the parks were Royal hunting grounds. Deer are wild animals though and can behave unpredictably."