Shakespeare's property deed signature to go on display
24 May 2013

From the section

London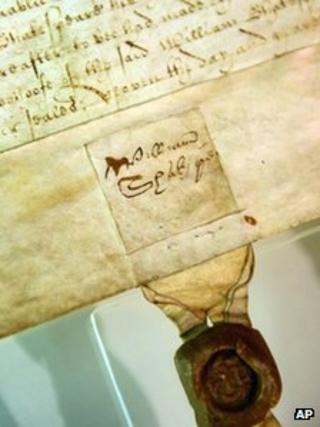 A "priceless" signature by William Shakespeare dating back about 400 years will go on display at an exhibition at the London Metropolitan Archives (LMA).
The bard's name is penned on the deed for a £140 property in Blackfriars. The autograph is one of only six known signatures by the famed writer.
The property, which was believed to have been located next to the Blackfriars Theatre, was destroyed in the 1666 Great Fire of London.
The deed will go on show on 28 May.
The document also bears the signature of William Johnson and actor John Hemmyng is named as a trustee but his signature is not on the deed.
Experts believe Johnson was the landlord of the Mermaid tavern which the bard and playwright Christopher Marlowe visited while the actor, also known as John Heminges, was the manager and editor of Shakespeare's first folio.
The Globe
Laurence Ward, LMA's principal archivist, said the bard "got around a bit in London" and had lived in the Bishopsgate area, the Southbank near the Globe, and in Silver Street in the City.
He said: "I think we know quite a lot about Shakespeare and Stratford, but actually Shakespeare is a really big figure in the history of London.
"London was the place where he worked really, right from the days of the theatre in Shoreditch, where he was working with the Burbidges, down to the Globe."
According to Shakespeare's will the bard let one of the rooms in the Blackfriars property, which was situated across the River Thames from the Globe, to a tenant.
"There are only six signatures that we know about from Shakespeare, so in that sense, to us really, it's priceless," Mr Ward added.
The exhibition will run until 28 September.