Murder accused 'tried to kill amputee' in Ealing shooting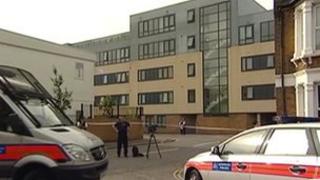 A gunman tried to kill a disabled woman after he shot dead her partner, the Old Bailey has heard.
Daniel Bidace Anthony, 30, had already "executed" Dothan Gordon, 32, in his living room in Ealing, west London, before turning the gun on Amy Ashitey.
The 28-year-old double leg amputee was in bed when he fired fired two shots. One bullet pierced part of her lung and the other missed before the gun jammed.
The defendant denies charges of murder and attempted murder.
Prosecutor Jonathan Rees QC said: "This case involved the cold-blooded execution of a man and the callous attempted murder of a double amputee lying in her bed when she was shot.
"The man was trying to kill her because she had recognised the killer."
Mr Rees said Mr Gordon, who was known as Sunny, was shot in the back of the head in June last year as he tried to act as a middleman in a £100,000 drugs deal.
Miss Ashitey was confined to a wheelchair after falling from a building in a failed suicide attempt.
The trial continues.