Chloe Johnson friends counselled over Egypt pool death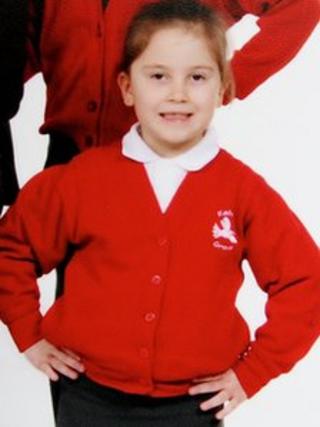 The head teacher of a five-year-old girl who drowned in a hotel pool in Egypt has spent the day informing children at her school about her death.
Chloe Johnson, from south-east London - who he described as a "popular little girl" - died on Friday on holiday in the Red Sea resort of Sharm el-Sheikh.
Andy Mathieson said her classmates had drawn pictures for her and her peg and picture would remain in her classroom.
The incident is being investigated by Egypt and UK authorities.
Book of Condolences
Mr Mathieson said two educational psychologists had spent the day at Kelvin Grove Primary School in Sydenham.
Children over seven talked about Chloe's death in assembly while younger children were told in smaller groups and counselled.
Chloe's classmates had a "mixture of responses", he said.
"Some of them understand Chloe is dead but think she'll be back next week.
"Some of the girls cried and wrote her letters and drew pictures for her. Most of the boys seemed to deal with it.
"The guidance is to deal with it head-on," he added.
Mr Mathieson - who had given permission to Chloe's parents, Sarah Thompson and Tony Johnson, for her to be taken out of school during term time - informed parents over the weekend about what had happened.
A book of condolence has been placed in the reception area with flowers and a picture of Chloe, he added.
He described Chloe as "a popular little girl with many friends" who "worked hard and was artistic and creative, always trying her best".
Mr Johnson, from Forest Hill, told ITV he tried to resuscitate his daughter when she was found in the pool at Coral Sea Waterworld Hotel.
Travel company First Choice has said it is working with the hotel to find out what happened.
A spokeswoman said: "The Egyptian authorities are leading a full and thorough investigation to understand how the incident occurred.
"As they are best placed to lead this, and have the appropriate powers to gather the necessary facts, both First Choice and the hotel operator are fully supporting and assisting their investigation.
"Our priority is to provide support to the family at this extremely difficult time."