Dave Courtney stepson gun murder: Uncle found guilty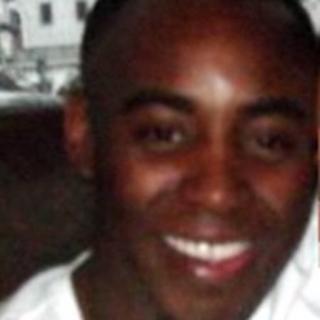 Two men have been convicted of shooting dead the drug dealer stepson of gangland celebrity and author Dave Courtney.
Genson Courtney, 23, was shot through the left eye in Greenwich, south-east London, in July 2011.
His uncle David Pinto, 33, and Robert Bleach, 46, both of Greenwich, south-east London, were found guilty of murder at the Old Bailey.
The pair were remanded in custody to be sentenced next Thursday.
The court was told Genson Courtney had made threats to Pinto and demanded £1,100 he claimed to be owed.
He was then shot as he was getting into his car outside his girlfriend's flat.
Jonathan Rees QC, prosecuting, said: "The bullet travelled through the eye socket into the brain, lodging at the rear of the skull.
"The shooting had all the hallmarks of a cold-blooded execution. A getaway car was waiting nearby."
'Bloodied and battered'
Mr Rees said there was "beef" between Mr Courtney and his uncle in the fortnight before his death.
"The motive behind the killing was that David Pinto was concerned that Genson Courtney was after him and sought to eliminate the threat that he posed," he explained.
The court heard Mr Courtney had been jailed twice and was taking steroids to build himself up to the point where he could rob drug dealers.
Jurors were told there had also been a feud between the murdered man and his stepfather Dave Courtney.
At one point Dave Courtney, who the court heard has "courted media attention", was left "bloodied and battered" by his stepson.
Dave Courtney has made a living out of making films and writing books about underworld connections, mainly in the 1960s and 1970s.
He also produced and starred in his own film, which featured in the Cannes film festival in 2001.