London Mayor makes Heathrow 'muddle along' warning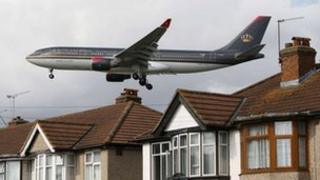 Boris Johnson has warned the government aviation commission of the dangers of taking a "muddle along" approach.
The London mayor has submitted papers to the Whitehall-appointed Davies Commission, along with other stakeholders, including Heathrow airport's operator.
Heathrow said: "The only real solution to a lack of runway capacity at our hub airport is to build another runway."
The Davies Commission is not due to make its final report until 2015.
Mr Johnson said: "It is now time to wake up, smell the coffee and accept the reality that Heathrow is full.
"It is straining at the seams and we need to deliver a new hub airport with at least four runways, which can put the UK in a strong position for the next 50 years."
'Residents' concerns'
Heathrow chief Colin Matthews said: "We are not proposing the use of mixed mode as a short-term measure because of the impact on local communities of ending periods of respite from noise.
"We are listening to local residents' concerns and we are working hard to develop new long-term solutions that can deliver additional flights whilst also reducing noise."
In his papers, Mr Johnson, concluded "there are simply no short term options to increase capacity at Heathrow".
He warned "any increase in flights would breach the cap of 480,000 air traffic movements imposed on the site under planning law."
"To change that cap would take several years and possibly a major public inquiry."
But a Heathrow spokeswoman said: "We're not in disagreement with Boris on the constraints around options to increase short-term capacity at Heathrow.
"That's why our submission focuses instead on options to increase operational resilience at the airport and bringing benefits to local people, whilst keeping within the 480,000 cap currently in place."