Brentford fans in play-off final 'cash scam'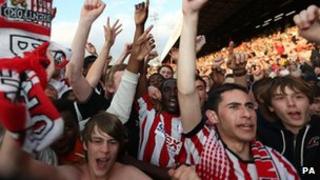 A number of Brentford fans say they have had money fraudulently withdrawn from their bank accounts after buying tickets for the upcoming play-off final.
Brentford take on Yeovil Town in the League One play-off final on Sunday.
But fans who bought tickets through the club-recommended website Ticket Zone say additional money was subsequently withdrawn from their accounts.
The club is investigating. Ticket Zone blamed the issue on a "third party".
Supporter Derek Abbey was alerted to the possible scam on a fan website.
He then found £380 had been fraudulently spent on Oyster Card credits from his bank account.
'Absolute disaster'
Mr Abbey said: "Both the club and Ticket Zone seem completely flummoxed as to how this could happen.
"It's an absolute disaster."
The scam is not thought to have affected those who bought tickets by phone.
It is understood supporters of Bradford City buying tickets through the website for the League Two final may also have had money taken.
A statement posted on Brentford's website said: "It has been brought to the club's attention that some supporters who bought online from Ticket Zone have had attempts to fraudulently use their credit card or debit card details.
"Some of these attempts have been successful and the club knows of supporters now in discussion with their bank or credit card supplier to reclaim their money.
"The club has been in discussion with Ticket Zone since the problem came to light."
A Ticket Zone spokesman said: "Ticket Zone has commissioned forensic specialists to assist their own technical teams with the ongoing investigations.
"All investigations point towards a 'man in the middle' attack intercepting internet traffic prior to landing on the queuing site.
"An attack like this would allow a fraudulent third party to record key strokes as they are being made on the customer's own browser."
He continued: "When this occurs, neither the customer or Ticket Zone is aware that fraudulent data capture is taking place behind the scenes.
"The crime has been reported to the police and they are now investigating on Ticket Zone's behalf."