Judges increase fraudster sentences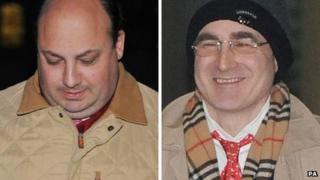 Two fraudsters who were jailed for swindling banks out of £61m have had their jail sentences increased by the Court of Appeal.
Achilleas Kallakis and Alexander Williams were sentenced to seven years and five years at Southwark Crown Court for defrauding Allied Irish Banks and Bank of Scotland.
The sentences have now been raised to 11 years and eight years respectively.
The Court of Appeal decided the original terms were "unduly lenient".
Between 2003 and 2008, the pair duped the banks into lending them the money to buy properties and a super-yacht.
Kallakis used the money to buy Bentleys, a plane and a helicopter.
'Audacious dishonesty'
The two men operated from offices in Mayfair in London where Kallakis pretended to be a property tycoon and Williams posed as a financial consultant.
It was argued before the appeal judges that the sentences imposed after their conviction did not adequately reflect the need for deterrence.
Three judges ruled the original sentences should have been consecutive and not concurrent - and replaced them with "just and proportionate" sentences.
Solicitor General Oliver Heald, who referred their cases to the Court of Appeal, said: "We welcome the court's finding that the culpability of the offenders was at the highest level because they set out and persisted over a significant period with planning, determination and audacious dishonesty."