Thames Barrier 'could be breached by rising sea'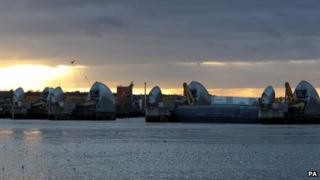 London's Thames Barrier could be regularly overcome by the end of the century if flood defences are not bolstered, scientists have warned.
Ice2Sea, a project bringing together scientists from around Europe, has produced a report saying waters may be more than 1m above current sea levels by 2100.
That would overflow the current Thames Barrier in the event of a storm surge.
A surge in 1953 killed 326 people, leading to the barrier's construction.
'Ice age' delusion
The current barrier was designed to withstand the sorts of floods that occur only once in 1,000 years, but Ice2Sea says these calculations must now be revised.
Responding to the report, Jenny Jones, Green Party London Assembly member, said: "The Mayor of London must urgently revise his flood defence policies to match the threat of storm surges and sea level rises.
"However, Boris Johnson's personal views [are] that we are heading towards a mini ice age, despite overwhelming scientific consensus showing the exact opposite.
"These may prove to be a major obstacle to the scale of action that is required to safeguard London and its inhabitants."
Mr Johnson is yet to comment.