Victoria station killing: Odegbune minimum tariff reduced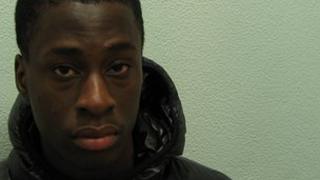 A teenager convicted of murdering a schoolboy in Victoria Station has had his sentence's minimum term reduced.
Samson Odegbune, now 19, was part of a gang which chased and attacked 15-year-old Sofyen Belamouadden in 2010.
His minimum term has been cut from 18 years to 16 by the Court of Appeal.
Tyrone Richards, 18, and Enoch Amoah, 19, who were both convicted for GBH and violent disorder, have had their sentences reduced from seven to five-and-a-half years.
In total, 16 people were convicted over the attack, three of whom were jailed for murder and five for manslaughter.
They were convicted over a series of four trials, the last finishing in October.
'Destroy many lives'
Odegbune's term was reduced as although he was one of the main ringleaders in planning the attack, it could not be said he intended death.
Richards and Amoah had their sentences reduced to take into account their "youth, good character and positive reports".
Five others who appealed had their sentences upheld by the judges.
Sofyen, a GCSE student, was stabbed nine times in a clash between two sets of pupils from west London schools in front of hundreds of commuters on 25 March 2010.
The attack on the aspiring footballer lasted 12 seconds and took place during the evening rush hour.
In the judgement, Lord Justice Leveson said: "A dozen or so young people of prior good character with academic achievement and promise have blighted their own lives and impacted on the lives of those who have been supportive of them.
"The account of this case should be told and repeated to young people everywhere: knives kill people and the effect of the madness of a few hours - or of a moment - will ripple out and destroy or devastate many lives."