Head teacher Jo Shuter reinstated after misconduct probe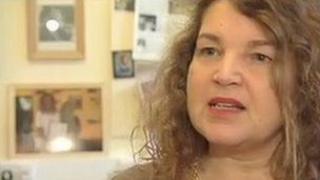 Governors at an academy where an award-winning head teacher was suspended over claims of "financial irregularities" said she has been given a written warning and been reinstated.
But the government said it still has concerns about the school's finances.
After an eight-month investigation by the governors of Quintin Kynaston in St John's Wood, north-west London, Jo Shuter is to return to the school.
She was suspended after allegations she refuted were made to the police.
At the time Ms Shuter called the allegations "malicious and vindictive".
The Met said there had been no arrests following allegations made in September of fraud or false accounting.
'Training measures'
A statement from the governors of the school said a "long and robust governors' disciplinary process" had resulted in her receiving a "formal final written warning".
It continued: "Governors are putting in place a series of supervision, monitoring and training measures to ensure that the conduct which led to the disciplinary process, does not recur."
The governors have not specified what that conduct was and said it was "frustrating" that staff, parents and students could not be better informed.
They said a "fuller statement" will be released "at the earliest opportunity".
As an academy the school is free from local authority control and ultimately accountable to the secretary of state for education.
A spokeswoman for the Department for Education said a financial notice to improve had been issued because of "concerns about the governance of its finances".
She said: "We are not lifting that notice because we do not consider Quintin Kynaston has made sufficient progress to address the weaknesses found at the school."
She said the findings of a thorough investigation would be published shortly.
Ms Shuter, who had been in post since 2002, was named head teacher of the year at the 2007 Teaching Awards and appointed CBE in June 2010.
Chris Sale took over in September as the acting head teacher.
Speaking about Ms Shuter's reinstatement, local Labour MP Karen Buck said: "All of us would have wished for this to be resolved much more quickly.
"Hopefully this is a resolution for the governors and Jo Shuter and the school can move on.
"It's a great shame it's taken so long."
Ms Shuter was unavailable for comment but told other media that the fact she was being reinstated spoke for itself with regards to the allegations.