Tia Sharp trial: Killer's 'sexual attraction' led to killing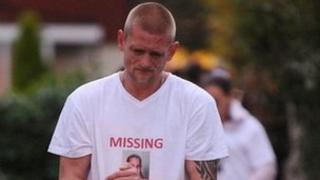 In an unexpected move, Stuart Hazell finally admitted murdering his step granddaughter, 12-year-old Tia Sharp.
After overwhelming evidence against him was presented in court last week, the 37-year-old abandoned his claim her death was an accident.
Over four days, jurors were presented with evidence of Hazell's sexual interest in Tia and other young girls.
The south London schoolgirl went missing last August, prompting a week-long police hunt.
Her body was found in the loft of the home Hazell shared with Tia's grandmother in New Addington.
Hazell's defence counsel Lord Carlile said the change of plea was to spare Tia's family further anguish.
Prosecutor Andrew Edis QC said Hazell had carried out some kind of sexual assault on Tia and that was why he killed her.
Explicit photographs
In a letter to his father, written while he was on remand in Belmarsh Prison, Hazell said the police were trying to make it sexual, a claim he denied.
However, jurors were told a sex aid with Tia's blood on it was found in the house.
Two memory devices were also found. Both contained explicit photographs - some of bestiality while others had teenage girls performing sex acts.
Hazell's phone had a record of internet searches which included terms such as "young girlies" and "schools girls XXX".
The last image on a memory card he owned was an explicit close-up photograph of a girl, said to have been Tia. It was taken when she was dead.
Hazell had also taken videos of Tia asleep and of her putting cream on her legs.
Mr Edis told the court: "Why is he taking these clips for? Did he have a sexual interest in young girls and Tia?"
The court also heard Hazell's semen was found in the room Tia used as a bedroom and on a pair of shorts Tia had worn.
The court had been told Hazell would claim Tia accidentally broke her neck falling down the stairs and that he panicked and hid the body in the attic.
A post-mortem examination did not show any evidence of a broken neck.
Mr Edis said: "She wasn't stabbed or shot.
"She had no wound that the pathologist could find. The two explanations for the blood were blood from her nose or ears during the asphyxiation, or blood caused by the sexual assault."
In the event, the change of plea meant Hazell never presented his defence to the court.
Due to the delay in finding Tia's body, the exact cause of death was marked as unexplained, although the pathologist believed she may have been smothered.
In court after Hazell changed his plea, Mr Edis said: "We do not know and never will know what took place in that house that night.
"But it is clear that Hazell committed a significant sexual offence against her, killed her, took her photograph as some form of keepsake, and then in quite a calculated way wrapped up the body and got it up to the loft."
Despite Hazell's guilty plea, her family still do not know for sure how he killed her, or why.