Several animals die in pet shop fire in Fulham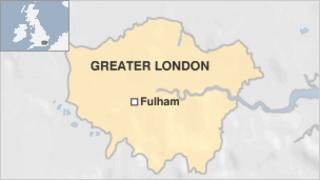 Several animals have died in a fire at a pet shop in west London.
About 60 firefighters were called to The Fish Bowl store in Fulham in the early hours of Monday.
Crews managed to rescue some animals, including rabbits, guinea pigs, snakes, and lizards.
But several animals including tropical fish, parrots, cats, rabbits and guinea pigs died. A number of flats above the shop had to be evacuated, with 18 people forced to leave their homes.
A London Fire Brigade spokesman said the exact number of the animals killed is not known as the owners have not been able to get into the shop.
Badly damaged
Station manager Matthew Burrows, who was at the scene, said: "Firefighters did very well in this challenging fire and managed to save the lives of lots of animals.
"The shop has been badly damaged in the blaze, and it's very lucky that no-one was hurt."
The blaze began at about 01:30 BST and took three hours to bring under control.
The cause of the fire, which damaged the basement and first floor, is under investigation.