East London teenagers tackle terrorism in play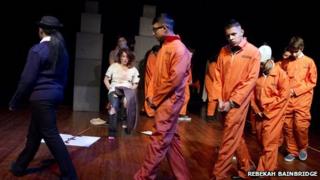 Young people from the east London borough of Tower Hamlets have taken to the stage to explore global politics and terrorism in a new production.
The play, called Nemesis, shows five world powers - Iraq, Israel, Pakistan, the UK and the USA - trapped in a deadly game, with each roll of the dice causing far-reaching consequences.
Nemesis also looks at the experiences of terrorism in Northern Ireland, Uganda and the UK.
Its opening scenes show characters in the infamous orange jumpsuits of Guantanamo Bay.
Local terror
This was the first time 'A' Team Arts, a youth arts service for 13-19 year olds, had embarked on producing a stage drama using contemporary texts and such a challenging subject matter.
Terror feels local for some residents in Tower Hamlets.
Not far from the Brady Community Centre, where the play was performed, is Aldgate Station - the scene of the first bomb blast that shook London during the 7 July terrorist attacks in 2005.
"I wanted to produce something around the 7/7 bombings and the impact it's had on a local scale," said Canan Salih, director of Nemesis.
To portray this global-local connection and impact, those behind Nemesis say they drew inspiration from other plays, such as Decade by Headlong Theatre and Talking to Terrorists by theatre company Out of Joint.
"We then thought to look at the actual victims of 7/7, totally conscious of its sensitivity," said Ms Salih.
"I read through most of the transcripts of the victims from the July 7 Inquiry and they left a strong impression."
'Authentic' portrayal
Taking a cue from Talking to Terrorists, the production team engaged the theatre style of using authentic, verbatim interviews as dialogue for the play.
"We felt it was important to look into authorship and how we vocalise the truth," said Kazi Ruksana, Nemesis's producer.
Many of the young cast have no real memory of 7/7 and had limited knowledge of global politics since 9/11, prior to researching for the play.
"It was hard at first to understand how we could portray the victims of 7/7," said cast member Aklima Begum.
"Playing 'Iraq,' I didn't know much about it before. But I feel this play has raised more awareness of the issues, both amongst us and the audience."
Global challenge
Tower Hamlets' youth arts manager Geraldine Bone said personifying the five countries, both as they saw themselves and as the world saw them, was a real challenge.
"The script says that the cast are teenagers and they squabble and score points off each other as teenagers do.
"But doing that within the context of being a world power relating to other world powers, I thought was particularly difficult."
Some of the cast also had multiple roles, which pushed them to look at matters from different perspectives.
"I played a Muslim grocery store owner abused after 7/7, a British Muslim boy rejoicing after 9/11 and an interrogator," said 15-year-old Neyaz Ismail.
"It was a real challenge to get the emotions right and remembering my lines. But I learnt a lot about the stereotypes that all sides can have."
Nemesis will be representing Tower Hamlets in the Five Borough Youth Festival in July 2013.