Romford acid attack: Crimestoppers offer reward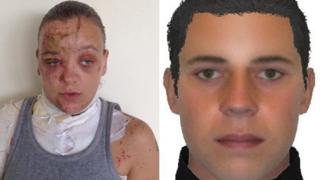 A reward of up to £3,000 has been offered to catch a man who sprayed acid in a woman's face on her doorstep.
The 28-year-old victim, called Tara, is being treated at a specialist burns unit after suffering horrific injuries to her face and upper body in the attack in Romford, east London.
Charity Crimestoppers said the attack was "shocking" and "heartless".
Tara, who asked for her surname to be withheld, has described her attacker as "cowardly".
She answered the door to a stranger who asked to speak to "Michelle" shortly before 21:00 BST on 30 April.
He returned about 30 minutes later and squirted an acidic substance in her face from a bottle, according to police.
'Callous individual'
The suspect is described as white, short, about 20 years old, with a dark complexion and dark hair. He was wearing black clothing and spoke with an English accent.
Regan Hook, Crimestoppers' campaigns manager for London, said: "When I heard about the attack on this innocent young woman I was absolutely shocked that someone could commit such a vicious and heartless crime.
"Attacks like this should not go unpunished and I would urge anyone with information to contact Crimestoppers anonymously, safe in the knowledge that your identity is completely protected.
"Don't let this callous individual get away with his crime: ensure justice is served."
On Thursday Tara said: "I feel devastated and am coming to terms with the fact I might have to bear the scars of this cowardly attack for the rest of my life.
"I was at home with my family at the time. It doesn't bear thinking about that this could have been one of the children instead of me as the man didn't even look up when threw it at me.
"He is a coward. Please call the police if you know anything at all."