London Fire Brigade may recoup £1.3m from false alarm calls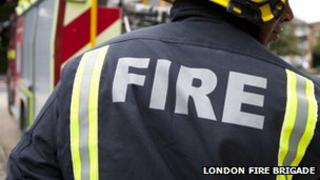 The London Fire Brigade (LFB) is looking at plans to recoup the costs of false alarm calls by imposing fines on the worst repeat offenders.
London's hospitals, which account for a large number of the calls due to automatic detectors, could face nearly £700,000 a year in penalties.
Had the plans been in place last year, LFB says it would have recouped £1.3m.
Ron Dobson, LFB commissioner, said the proposals would allow crews to attend more "genuine emergencies".
False alarms are estimated to cost LFB around £37m each year.
The UK economy loses around £1bn per year due to false calls, according to the London Fire Brigade.
£290 per engine
Under the proposals, the brigade would begin to recover costs from venues with more than 10 false alarms over a 12-month period.
Building owners could face charges of at least £290 for each fire engine that attends.
The proposals form part of the Draft Fifth London Safety Plan consultation, which is exploring potential new policies for LFB.
False alarms generated by automatic fire alarm and fire detection systems account for more than 40,000 of call outs every year, making up a third of all incidents for fire crews in London.
They are commonly caused by faulty or badly maintained systems or things like burnt toast, steam or cigarette smoke.
LFB says the majority of false alarms in 2012 came from hospitals, with 2,683 calls.
Student halls of residence, airports and hotels were among the other worst offenders.
'Poor management'
Ron Dobson, LFB commissioner, said firefighters ought to be available to attend "genuine emergencies" rather than having to deal with "thousands of false alarms".
"Often false alarms are caused by poor management or maintenance of alarm systems," he said.
Mr Dobson added that the plan was "not about making money".
Care homes and sheltered housing would not be included in the proposals as they are categorised as domestic premises.
The consultation, which is set to end on 17 June, includes public meetings across London's boroughs.
*Figures from LFB