Romford acid attack victim photo released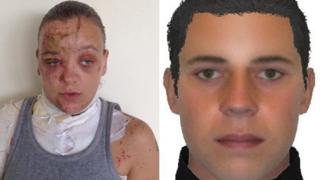 Police have released an image of the injuries sustained by a woman whose face was sprayed with acid at her east London home.
Detectives have also issued an e-fit of the suspect who carried out the assault in Romford on 30 April.
The assault happened when the 28-year-old victim answered the door to an unknown man. Her children were home at the time.
Officers say they are keeping an "open mind" about the attacker's motive.
The assault happened after a man asking for someone called Michelle knocked on the victim's door. He returned a short time later at about 21:00 BST and squirted acid from a bottle.
'I feel devastated'
The victim managed to shut her door and rinse her face with water while an ambulance was called.
Tara, who asked for her surname to be withheld, said: "I feel devastated and am coming to terms with the fact I might have to bear the scars of this cowardly attack for the rest of my life.
"I was at home with my family at the time. It doesn't bear thinking about that this could have been one of the children instead of me as the man didn't even look up when he threw it at me.
"He is a coward."
She was treated in a specialist burns unit and is now in a stable condition.
Det Ch Insp Paul Swift said: "This was a craven attack during which the victim suffered substantial injuries."
He added it was possible the attacker sustained burns injuries as a result of handling the chemicals, and anyone aware of someone trying to cover up any such injuries should contact the police.