London man 'amazed' to learn of Abraham Lincoln connection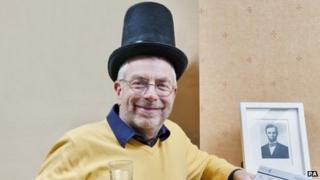 A retired civil servant from south London has learnt that he is a distant cousin of the 16th American president Abraham Lincoln.
Robert Gilchrist, 61, was traced by the Office of Tourism in Illinois, where Lincoln lived and is buried.
Their quest follows the Academy Award-winning biopic of the American leader, starring London-born Daniel Day-Lewis.
Mr Gilchrist and his wife Jane are to be shown around the landmarks in Lincoln's home town of Springfield.
Mr Gilchrist, who is from Sydenham, said it was "incredible to discover" that Lincoln, who led the United States through the American Civil War and helped abolish slavery, was his eighth cousin three times removed.
"I had a vague idea that there was a connection but nothing definite," he said.
He added: "I've always had a great admiration for Lincoln as a great historical leader."
Mr Gilchrist's ancestors on his mother's side lived in in Hingham, Norfolk, before leaving for the "New World" in 1637.
Together with his wife, Mr Gilchrist will visit Lincoln's home, his law offices and the Capitol building where he worked as legislator, along with the cemetery where he and his family are buried.
The couple will also meet Lincoln experts at the Presidential Library and Museum where Day-Lewis researched his role.
British genealogist Anthony Adolph, who was tasked by the Illinois Office of Tourism to find Lincoln connections in Britain, said he was surprised by the number of people who believe they are related to the US president.
"Several people tried to claim the title through inherited family trees which were unfortunately incorrect."
"But then we saw Robert's information and we knew we had found a strong contender."