Metropolitan Police discipline 42 employees in two months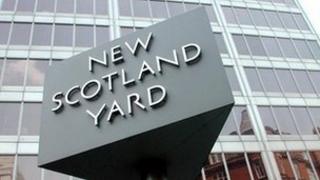 Forty-two Metropolitan Police officers and staff have been disciplined in the first two months of the year, the force has revealed.
Of those, 19 were dismissed for offences which include assault, making false entries on the crime reporting system and corruption.
The figures also show that a police constable was fired in January for internet paedophile activity.
Some 96 officers or staff members were dismissed during the whole of 2012.
The force has published the outcomes of misconduct hearings on its website in an effort to boost public confidence.
The Met has come under public scrutiny as the force carries out Operation Elveden, which investigates alleged payments to public officials by journalists.
Up until March, eight current or former Met officers were arrested as part of the investigation.
'Damage trust'
The published figures show that seven employees resigned before a misconduct hearing was held.
London Assembly Green Party member Jenny Jones said: "I am pleased that the Met is now being transparent about the outcome of misconduct hearings.
"However, the revelation that so many officers are still able to resign before facing a misconduct hearing, I think will damage trust in the police."
The force said: "As part of our commitment to transparency the outcomes of all misconduct hearings, where the case is found to be proven, will now be published on the MPS website. This will be updated on a quarterly basis."