Park Theatre venue opens its doors in Finsbury Park
8 May 2013

From the section

London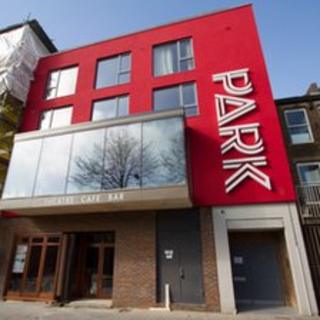 London's newest theatre, backed by Sir Ian McKellen, opens later with a performance of Melanie Marnich's These Shining Lives.
The Park Theatre, in Finsbury Park, received fundraising support from actors Sir Ian and Celia Imrie.
"It's our intention to be spoken about in the same breath as the Young Vic," said artistic director Jez Bond.
The two-auditorium venue incorporates a 200-seat theatre - Park200 - and a flexible 90-seat space - Park90.
Directed by Loveday Ingram, These Shining Lives, set in Chicago in the 1920s, is a play about love, friendship and determination.
'Passionate team'
The theatre's artistic director Jez Bond, 34, from south London, said he had dreamt of opening a theatre for the past two decades.
"I've wanted to create my own theatre since I was a 14-year-old boy when I was working in my school theatre," he said.
His criteria for finding the right space included "somewhere with good access to public transport" and "somewhere that was in need of more art provision".
"It took about six years of searching to find the right space, but we struck gold at Finsbury Park," Mr Bond said.
The £2.5m theatre has been built in a disused office block, a couple of minutes walk from Finsbury Park station.
"And Finsbury Park has a huge concentration of creative people," he added.
The team behind this "are passionate and a family, who have created a welcoming, independent, family theatre", he said.
The launch season will have "a mix of new writing and classics", he added.
"Our tag line is 'good plays done well'."
During its first season, the Park200 space will host Maureen Lipman, who appeared in The Pianist and Educating Rita, in the first run of Daytona.
Meanwhile the smaller Park90 venue will host The Thing about Psychopaths, a play about surviving in the corporate world.
Mr Bond said the venue, which operate as a charity, "will rely on local support to keep going".