Protester 'raped woman in Occupy London camp'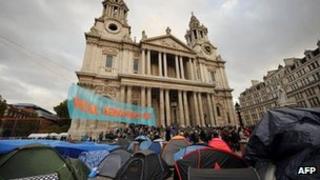 A man raped a fellow protester twice at the Occupy London camp set up outside St Paul's Cathedral, a court has heard.
Malcolm Blackman, 46, of Weston-super-Mare, denied the charges saying he was at a different protest venue at the time of the alleged attack.
The complainant said that in January 2012 she woke up to find Mr Blackman raping her and days later he forced her to perform a sex act after a row.
"That simply did not happen", the defendant told the Old Bailey jury.
The camp was set up in October 2011 and protesters and their tents were uprooted from the land in February 2012.
Mr Blackman, of Gloucester Street, told the jury he had been at a protest outside the US Embassy in Grosvenor Square on the day of the alleged rape, before returning to his tent after a party at the camp.
Gordon Ross, defending Mr Blackman, asked him: "Did you ever take advantage of her while she was asleep?"
"Absolutely not," the defendant said.
He said he had been drinking beer and whisky and went into the tent "for some peace" when the complainant came in, he said.
Mr Blackman told the jury: "I was beginning to feel uncomfortable with the situation.
"I wanted to leave but I was prevented. She shoved me back with both hands."
The defendant said he had to call out for help to leave the tent.
He said he then left the camp and went home to Somerset, returning days later in February.
The trial continues.