East London Thames crossings plan to exceed £43m
25 April 2013

From the section

London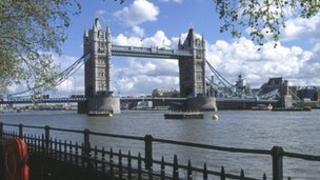 More than £43m will have been spent in a decade on preparatory work for new crossings over the Thames, the Green Party claims.
Figures disclosed by the Mayor of London show the total spent on the project will reach £43.4m by next year.
Assembly Member Darren Johnson, of the Green Party, said that despite the public expense, "not a single bit of construction work has been done".
Transport for London (TfL) said new river crossings are "crucial".
The figures came to light following a question to the mayor by Darren Johnson.
The Thames Gateway Bridge team was set up while Ken Livingstone was mayor in 2003, to look at options for new transport links across the river in east and south-east London.
The project has been closed and re-opened twice in the last 10 years.
Current plans include a ferry at Gallions Reach linking Thamesmead and Beckton - due to open in 2017 at the earliest - and a road tunnel linking Silvertown to the Greenwich Peninsula - which could open by 2021.
Their purpose is to ease the congestion in the Blackwall Tunnel, Woolwich Ferry and other transport links over the river.
'No public support'
Mayor Boris Johnson said approximately £6m of the project's funds will be used to support "further and more detailed traffic modelling and engineering, environmental assessments and surveys and statutory public consultations".
Darren Johnson said a "truly staggering amount of public money" was being used for links which the public "do not support".
He said the funds would have been better spent on "reducing traffic and making our existing roads safer and that more money should be allocated for "schemes for pedestrians and cyclists".
"The amount of car driver trips taken in London has been in decline for over 12 years, despite a rising population," he added.
He called on the mayor, who is the chairman of the TfL board, to "stop lobbying for road links which will result in even more polluted air, more congestion and a dirtier, more unpleasant city for Londoners".
But TfL's managing director of planning, Michele Dix, said: "The spending referred to by the Green Party covers all work carried out in relation to river crossings in east and south east London from 2000 to 2014 and includes a substantial amount of work on the Thames Gateway Bridge.
"There is a crucial need for additional river crossings in east London."
Currently, the only crossings for cars and lorries between Rotherhithe and Dartford are the Blackwall Tunnel and Woolwich Ferry.