Stephen Lawrence murder: 'We will catch those involved'
22 April 2013

From the section

London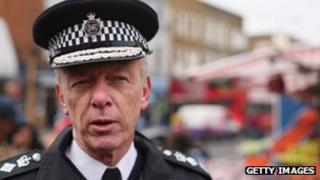 London's police commissioner has vowed the Met will catch and prosecute all of those involved in Stephen Lawrence's murder.
The comments come 20 years after the teenager was murdered as he waited for a bus in Eltham, south London.
Two men, Gary Dobson, 37, and David Norris, 36, were jailed for life after being found guilty last year of the attack.
Sir Bernard Hogan-Howe said it had taken "too long" to convict the pair.
"After taking too long, we did get convictions in two cases last year, and what we're going to do is catch the other people involved," Sir Bernard said.
"We still have got suspects identified."
The investigation was initially mired in allegations of police incompetence and institutional racism.
Sir Bernard said the police "have improved greatly" in the years since the murder, and that there were now around 3,000 black and ethnic minority officers in the Met.
A memorial service will be held at the central London church of St Martin-in-the-Fields later.
'Tireless efforts'
"The senseless killing of Stephen Lawrence in 1993 was a tragedy," Prime Minister David Cameron said.
"It was also a moment that sparked monumental change in our society - change that has been brought about by the tireless efforts of Stephen's family in challenging the police, government and society to examine themselves and ask difficult questions.
"Much has been achieved, but we know that more still needs to be done. We owe this to the memory of Stephen."
Prof Brian Cathcart, who wrote a book about the Stephen Lawrence case, says Mr Cameron is right.
"It was, I think, the first time that the British public - the white British public - engaged with a black family which had a grievance and shared, in a way, in their anger and their grief."
A poster has been put up in New Scotland Yard with a personal message from Sir Bernard.
It reads: "Twenty years ago the Lawrence family lost their loved son, Stephen.
"We let them down by not catching his murderers. Then last year we finally brought two of his killers to justice. The Met won't forget Stephen Lawrence."
Stephen's father Neville has chosen to remember his son privately in Jamaica, taking flowers to his grave and saying a prayer with a friend who is a pastor.