London 'fatbergs' burned to generate power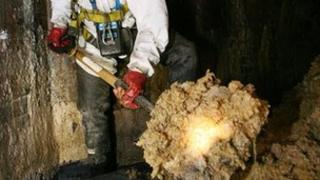 Fat and oil clogging up London's sewers is set to be used to supply a power station and the national gird.
Grease and fat will be collected from sewers and restaurants before being burned to create about 130 Gigawatt hours (GWh) of power each year.
The fat-fuelled plant at Beckton, east London, will be run by 2OC and sell 75 GWh to Thames Water to power a nearby sewage works and desalination plant.
Andrew Mercer, from 2OC, said it would create power "in London by Londoners".
'No smoke, no smell'
Thames Water said it removed about 40,000 blockages caused by fat being poured down drains each year, costing about £1m each month.
Rob Smith, from the company, said: "Fatbergs are generated in the sewer system and there are places where it just clogs up together.
"Today, as it stands, any fat that comes out of the sewer system and all the other items that are disposed of that shouldn't be, all goes to landfill.
"So if someone can burn that and burn it in a green manner and generate power that's got to be a benefit."
Mr Mercer added: "Because of the very high temperatures and the fact that we're monitored by the local environmental health officers and the environment agency, there will be no smoke, no smell and if we do do that we'll be shut down."
2OC has signed a 20-year deal worth over £200m with Thames Water to supply the 75 GWh.
Any remaining power will be sold to the national grid.