Bridesmaid plans in father's last moments with girl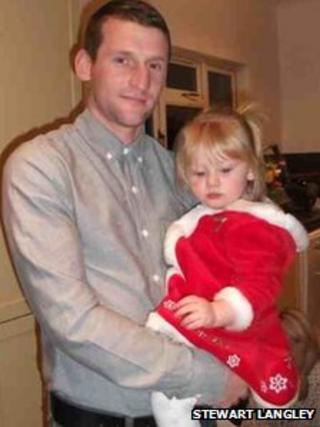 The three-year-old girl believed to have been killed when her buggy fell into the path of a van was due to be a bridesmaid this summer.
Olivia Langley's father, Stewart, 31, who is marrying his partner, said the last time he saw his daughter they tried her bridesmaid dress against her.
Olivia was hit by a van outside her home in Woburn Court, Wellesley Road, Croydon, south London on Monday.
She was pronounced dead at St George's Hospital later that morning.
'Like a princess'
Her mother, Louise Uffindell, had left the buggy on the pavement for a moment while she returned inside their home when a gust of wind blew it into an oncoming van, witnesses said.
She was taking her daughter to nursery and was running late.
Mr Langley, a scaffolder, will marry his partner Ashleigh Stewart, with whom he has two children, in August.
Olivia was due to be a bridesmaid with her half-sister Jessica, 1, and was excited about wearing her white dress with a petticoat and ruffles, her father said.
He said she "looked like a little princess".
"It's so weird because we're getting married in the summer. We had bought her bridesmaid dress," he added.
"Just as she was leaving on Saturday we were putting it up against her to see how it fit.
"She had just got her shoes on to go so we said, 'We will wait till next time to try it on'."
Mr Langley saw Olivia most weeks and said she "absolutely adored" her half siblings.
He said he was disappointed that they had not taken a photo of her wearing the dress.
He continued: "Everyone's lost for words at the moment. We can't get our heads around it. You never expect children to end up like that before you do."
Safety complaints
Resident William Messer said he had raised concerns about the road being used as a cut-through by vehicles.
"I could see something like this happening and that's what upsets me most," he said.
"I've complained about the estate, about the conditions of the estate, the access that's available from both ends of the estate, and nothing was ever done about it."
Mr Langley said: "Quite clearly something needs to be done to make the road safer."
The driver of the van, who stopped at the scene, was arrested on suspicion of causing death by careless driving and bailed to return to police in May.