Bankrupt Ponzi scheme fraudster ordered to pay £1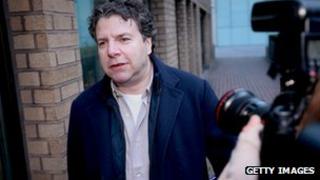 A bankrupt stockbroker who defrauded £316m from people has been ordered to pay a nominal £1 fee.
Nicholas Levene, 48, was jailed for 13 years after he admitted a Ponzi scheme which brought millions into his bank accounts between April 2005 and September 2009.
Levene, from Barnet, north London, took investors' money to buy shares on their behalf but spent it on luxury cars and yachts.
His assets are being investigated.
He filed for bankruptcy in October 2009.
'Nominal sum'
Levene admitted 12 counts of fraud, one count of false accounting and one of obtaining a money transfer by deception.
The amount attributed to his false accounting was £32,352,027.
But with his customers' lost profits, the amount reached a total of £101,685,406.
At Southwark Crown Court Judge Martin Beddoe said: "It seems to me entirely pragmatic that his assets are seized by the trustee in bankruptcy.
"As there is nothing available, I direct that he should pay the nominal sum of £1 within seven days."
Levene, who was not in court, has admitted defrauding a series of business people including Sir Brian Souter and his sister Ann Gloag, the founders of the Stagecoach bus and rail group, and Richard Caring, owner of The Ivy and Le Caprice restaurants in London's West End.
Investigators found evidence of round-the-world trips, yacht hire and top hotel stays in Australia, South Africa and Israel.