Street cleaner stabbing a 'terrible accident'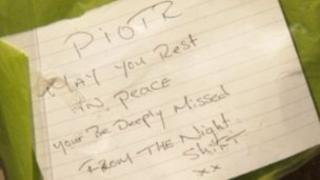 A street cleaner who died after confronting a man over setting off a burglar alarm was killed in a "terrible accident", the accused has said.
Roger Buckingham, 31, charged with murdering Piotr Mikiewicz, apologised to the man's family as he gave evidence at the Old Bailey, saying "So sorry".
Mr Mikiewicz, 40, was stabbed in Rylett Road, Shepherd's Bush, west London, last August.
Mr Buckingham, from Shepherd's Bush, denies murder.
'In the wrong'
The street cleaner used his broom to hit Mr Buckingham after he saw him coming out of a house where the burglar alarm was sounding, the court heard.
Mr Buckingham, who was holding a knife, stabbed him in the chest before making off, the court heard.
Aftab Jafferjee QC, prosecuting, said the Polish national showed a "laudable sense of civic duty" which had cost him his life.
Mr Buckingham sobbed as he said: "I didn't mean to hurt him at all. There is nothing I can do to change it.
"I can't begin to think what his family are going through... so sorry.
"I was in the wrong. I just tried to protect myself the best way I could."
After telling the court he took the knife from the kitchen to cut wires to a computer, Mr Buckingham denied a suggestion from Mr Jafferjee that he was talking "utter rot".
Mr Mikiewicz had let him pass but had started hitting him with the broom to try to stop him, the court heard.
Mr Buckingham described what happened next, saying: "Terrible accident. It should never have happened."
The jury was told after being arrested at his girlfriend's house, police found a flight had been booked for him to Cyprus.
The case continues.