Mark Duggan inquest: Watchdog 'not fit for purpose'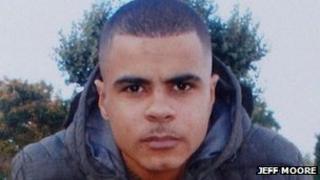 The police watchdog has been described as "not fit for purpose" by Mark Duggan's barrister.
A pre-inquest hearing heard the Independent Police Complaints Commission (IPCC) had still not completed its report into the shooting.
The IPCC initially said the report would take three months but it said there were "still lines of inquiry outstanding".
Mr Duggan's death in 2011 in Tottenham led to widespread rioting.
The Coroner, Judge Keith Cutler, ordered the IPCC to deliver a draft copy of its investigation report by 13 May.
'Appalling omission'
Mr Duggan's family's barrister Michael Mansfield QC told the hearing that the delay showed the "magnitude - not just of delay - but of incompetence".
He told the hearing the IPCC started basic tests and the event reconstruction too late and there was an "appalling omission" on determining whether there was aerial intelligence of the scene.
"They're just not fit for purpose," he told the hearing at the Royal Courts of Justice.
Robin Tam QC, representing the IPCC, declined to give precise date for the report's completion but said the inquest should begin as scheduled in September.
Judge Cutler also said this may be one of those cases where jurors have anonymity so names are not read out in court.
But Mr Mansfield opposed this saying there was no suggestion of jury being intimidated or threatened and it would give the wrong "flavour" to the inquest.