Regent Street area reopens after flooding damage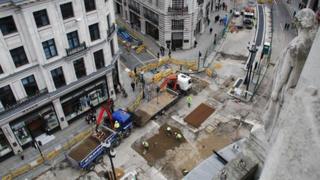 A part of Regent Street in London's West End shopping area which was closed at the start of the month due to a burst water pipe has reopened.
Up to 15 shops close to the junction of Vigo Street and Glasshouse Street were affected after the 20-inch (50cm) water main ruptured on 2 March.
The flooding and ensuing repairs to the century-old water pipe meant the area was closed to traffic.
The affected area was reopened after 16:00 GMT on Thursday.
Westminster Council said it had brought forward some road repairs planned for the area while the street was closed as Thames Water fixed the pipe.
New pedestrian areas in the centre of Regent Street on the approaches to Vigo Street and Glasshouse Street were installed by the council, and Transport for London also put up two bus shelters in Regent Street.