Falling telegraph pole hits man on head in Wandsworth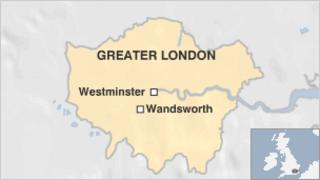 A man is in a critical condition after being struck on the head by a telegraph pole in south-west London.
The 27-year-old suffered a cardiac arrest after being hit by the wooden post on Spanish Road, Wandsworth, on Monday evening.
He was taken to St George's Hospital in Tooting where he is also being treated for a head injury.
It is thought the pole, owned by BT, came down in high winds. Police said they are investigating the incident.
A spokesman for BT said: "We are sorry to hear of this incident and our thoughts are with the man who was injured last night.
"We have launched an investigation."