Cycling Crossrail: First of many bumps in the road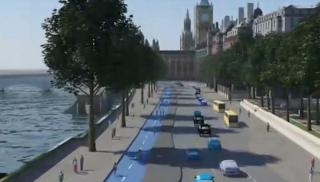 On Thursday we were given some details of how the future could look for cycling in London.
It received a rapturous welcome from cyclists who have fought a long campaign for these improvements.
Much of the detail had been outlined previously by Transport for London (TfL) - such as a grid of cycle routes and the junction review - although the really eye-catching addition is the east-to-west "Crossrail for bikes".
Reputed engineers have told me that scheme could cost around £15m.
Looking at what details we have, you quickly get an indication of how this is very early days in that scheme.
Below the Westway
Much has been made of a cycle way going on top of the A40 but there are actually plans for a cycleway to go below the Westway from Westbourne Park to Paddington.
Could we end up with one cycleway above the other?
You would think not, but it shows you at what stage the authorities are in talking to each other.
Also, the centre piece of the announcement was a CGI fly-through along Victoria embankment including blue, segregated cycle lanes.
But the route actually goes through a conservation area of historical importance.
Westminster Council turned down a cycling superhighway in 2008 due to the very same blue paint we see in the CGI.
It is still not keen on blue paint and already has concerns about the fly-through model put forward by TfL.
Rushed out
Critics say by putting out a rushed idea - that's already been rejected - it shows the scheme has been given little thought.
Westminster Council said the segregated lanes will have to fit in with the surroundings, so blue is probably out.
Councils are meeting TfL next week to start work on the detail and to start having an input.
Speaking to Sunday Politics London, Cycling Commissioner Andrew Gilligan said: "We are not doing the blue.
"There's blue in that video graphic (you showed) but that's just because we didn't have time to remove it....
"It's not going to be blue. It's because we consulted with them (Westminster Council) they are remarkably signed up."
Cyclists want change quickly but this scheme will be welcomed when they are delivered.
Many experienced campaigners know this is just the beginning of a long process so patience will be required.
The hope is the central section will be finished by 2016.
For the full interview with Andrew Gilligan watch Sunday Politics London on 10 March at 11:00 GMT.