Met PC Joseph Harrington denies 'smearing' teenager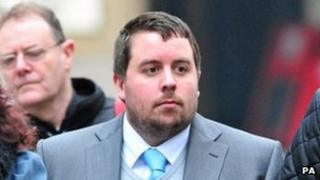 A Met Police officer has denied trying to "smear" a teenage boy who he is alleged to have assaulted days after the 2011 riots in London.
PC Joseph Harrington, 29, from Walthamstow, told Southwark Crown Court he restrained the boy - who was then 15 - only after he became aggressive.
He said he thought the teenager had a history of making false allegations.
The officer denies an assault charge of stamping on the arrested boy, leaving him struggling to breathe.
He said the boy, who cannot be named for legal reasons, left him "in fear" for his safety during a heated confrontation in a caged cell at Forest Gate police station.
Prosecutor Duncan Atkinson said: "Are you trying, in any way you can, to smear (him)?"
"No sir," Mr Harrington replied.
'Sticking to training'
The teenager has previously told the court how Mr Harrington stamped on him then "dropped his whole body" onto his back after apparently recognising him from a confrontation a day or two before.
On that occasion, the boy claims Mr Harrington put his hands round his neck.
The officer told jurors he had not used unnecessary force.
"I was sticking to my training and what my experience told me I needed to do," he said.
He told the court that although officers had endured a "very tiring" few days during the riots, when police were subjected to days of abuse, he had not reacted as if he "had had enough".
The trial continues.