London gives top transport tips for Rio 2016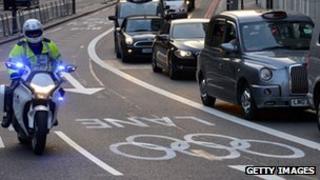 Rio has received London's top tips on how to run a smooth transport system ahead of the 2016 Olympic and Paralympic Games.
London Assembly transport committee chairman Caroline Pidgeon has written to the Brazilian ambassador to Britain, Roberto Jaguaribe.
There was a 30% increase in Tube passengers during the London Games.
More than 40 transport organisations were involved in running the network during London 2012.
In the letter, Ms Pidgeon said the number meant getting the operators to work closely together before and during the Games was vital.
'Dramatically different' challenges
The document details the results of the committee's investigation into the transport operation for the London 2012 Games.
Other advice includes making sure there are extensive, detailed plans and testing them well in advance, and encouraging commuters to change their usual travel plans and learning any lessons from big events held in the run-up to the Games.
Ms Pidgeon said the challenges Rio faces in the run-up to the 2016 Games are "dramatically different" to London's.
She said: "The lessons from London 2012 could help the city to cope with the pressure of additional visitors, deliver athletes to events swiftly, allow residents to get to work - all while ensuring that the transport network during Rio 2016 runs smoothly."
The task now for London is ensuring the efficient transport network during the 2012 Games is not "just an exceptional, one-off achievement only beneficial over the Olympic summer", Ms Pidgeon said.