Tamara Ecclestone 'warned about ex-fiance's blackmail plan'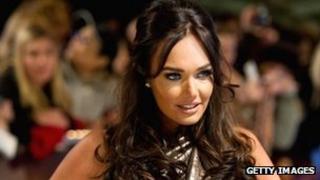 A journalist warned socialite and model Tamara Ecclestone that an ex-fiance was trying to sell a story about her, a court has heard.
Sun reporter Alex West told her Derek Rose, 33, was trying to sell a story to them, the jury was told.
The court heard her agent was later sent an email in 2011 from Mr Rose and his co-defendant Jakir Uddin demanding £200,000, or they would sell the story.
Mr Rose, of Camden, and Mr Uddin, 20, of Birmingham, both deny blackmail.
Mr West met Ms Ecclestone, daughter of Formula One supremo Bernie Ecclestone, at a charity fundraiser a day after discussing the possible deal with Mr Uddin, Southwark Crown Court heard.
'Lot of money'
The jury had been told Mr Uddin, a media studies student, was representing Mr Rose, who went out with Ms Ecclestone in 2002 when she was 17.
The jury was told Mr Uddin played a video of Mr Rose, who used to be called Jonathan Ketterman, talking about his relationship with the celebrity.
No deal was struck as the journalist needed to speak with Mr Rose directly but a confidentiality agreement was signed, the court heard.
Mr West said: "The impression I got was he wanted a lot of money for his story though I don't remember him saying that."
Confidentiality contract
By coincidence, the next day Mr West met Ms Ecclestone, who starred in the reality TV programme Billion Dollar Girl, at an event for Great Ormond Street Children's Hospital.
He told her of Mr Uddin and Mr Rose's alleged plan to sell a story about her, the court heard.
Two days later on 16 November 2011 the defendants sent an email to Ms Ecclestone's manager blackmailing her, the prosecution said.
Prosecutor William Boyce QC said Mr Rose orchestrated the email, which claimed a tabloid newspaper had offered him £200,000 for his story, but no newspaper had made such an offer.
The defendants allegedly wrote they would be happy to discuss "a non-release fee" and sign a confidentiality contract.
They also gave a deadline of the following Friday when they claimed they had to answer the tabloid's offer.
The trial continues.