London Underground Trainpeople agency staff to strike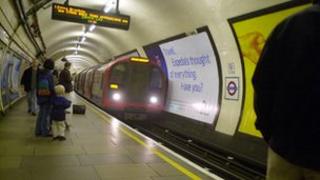 Union members who worked for an agency contracted to London Underground (LU) have voted for industrial action.
The RMT union said 33 staff working for Trainpeople on the Bakerloo and District lines lost their jobs after their contract with LU ended in December.
The union said the Trainpeople union members who lost their jobs would picket.
Transport for London said the dispute was between the RMT and Trainpeople.
London Underground inherited the contract with Trainpeople from Silverlink in 2007.
'Used and abused'
An RMT spokesman said no date had been set for the action, but that it was "imminent".
He claimed that LU had used staff for five years, while the agency paid them "as little as £6.75 an hour".
The workers, who want LU to take them on as permanent staff, carried out a range of duties including manning the gates and assisting passengers on station platforms, he said.
Bob Crow, the RMT's general secretary, said: "The way that Trainpeople have used and abused a group of workers who have been "temporary" for five years is a disgrace and RMT will not sit back while this exploitation is allowed to fester on London Underground.
"RMT wants permanent and direct employment for these low-paid workers and we are setting out on a major campaign to achieve just that."
Nigel Holness, operations director at Transport for London, said: "This is a dispute between the RMT and an agency called Trainpeople.
"None of these members of staff were ever employed by London Underground and this action will have no impact on services for our passengers."
Trainpeople declined to comment.