Thames Barrier reopens after flood risk fears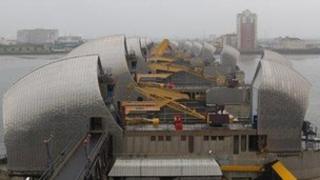 The Thames Barrier has reopened after twice closing on Thursday to minimise the risk of flooding.
It had closed on Thursday morning to keep the incoming tide out of the London stretch of the river, reducing the the risk of flooding upstream.
It reopened at 15:00 GMT then closed again at 22:15 GMT for the next high tide.
The barrier, at Woolwich in south-east-London, reopened at 03:00 GMT. It last closed due to flood risk in March 2010.
Flooding is continuing to cause problems across the Thames Valley, with warnings in place across the region.
Fire crews say they have prevented flood water damaging an electrical substation near Reading, in Berkshire, which could have affected some 40,000 properties in the area and south Oxfordshire.
The Thames Barrier closes each month for checks to ensure it is working properly but once a year a full test closure is performed during a high tide.
Work on the barrier began in 1974 and took 10 years to complete.