Reg Traviss 'hopeful of relationship' with rape accuser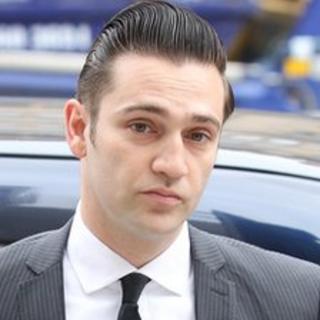 Amy Winehouse's former boyfriend was optimistic about having a relationship with a woman who has accused him of raping her as she slept, a court heard.
Reg Traviss, 35, denies attacking the woman at his central London flat in the early hours of 31 December 2011.
He told Southwark Crown Court they had had consensual sex after getting "merrily drunk" together at three bars.
He said the 27-year-old woman had seduced him by inviting him to bed at his flat. He denies two counts of rape.
The film director told the court: "There is no truth in this allegation whatsoever."
He told the jury how he had not been out for several months "whatsoever" after his girlfriend Amy Winehouse died in July 2011.
'No objections'
He said the woman had instigated sex between them after returning to his home in Devonshire Street, Marylebone, and had made no objections.
The next day he repaid her £25 she had spent on drinks the night before, walked her halfway to the Tube station, kissed her goodbye and agreed to see her that night, he said.
When asked by defence QC Ian Winter if he thought he and the woman could have a relationship, he said: "I sort of came away from that evening thinking this could be really good, this could be the start of something.
"I wasn't looking for a girlfriend but she is somebody I have known for a long time and that there could be something in this."
When he did not hear back from her weeks later, after she had gone to meet a man in New York, he said he had assumed they would "just go back to being friends".
He said he had been shocked when the police contacted him in April informing him of the sex allegation.
He was not initially told who had made the complaint and said he thought it might have been a stalker inventing an allegation.
The trial continues.