Woman attacked in violent burglary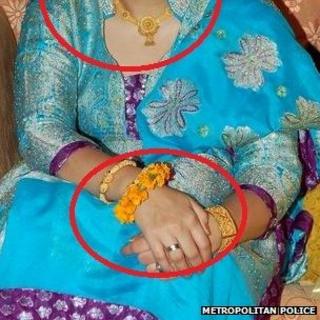 Police have appealed for information after burglars in south London punched a woman and threatened to take her five-year-old daughter.
Officers are linking it to five other offences in the area in the last month where Asian families were targeted for their jewellery.
Police were called to Commonside East in Mitcham at 22:00 GMT on 10 October.
Two men, described as black and in their late teens or early twenties, stole £40,000 worth of gold jewellery.
The first offender was described as short, about 5ft 3in tall, and wore a brown tweed cap.
The second was described as taller and slimmer, about 5ft 7in in height, with darker skin.
The woman, aged 36, has not been identified but police have released a photograph of the stolen jewellery.