Felix Fletcher guilty of car chase death in Hayes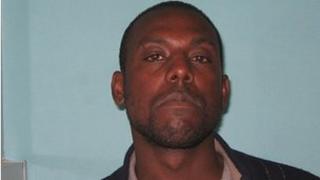 A man has been jailed for 12-and-a-half years after knocking down and killing a pensioner while fleeing police in a stolen car in west London.
Roberto Da Silva, 70, was getting out of his car in Murray Avenue, Hayes, when he was hit by a speeding VW Golf.
Police had been forced to abandon their pursuit minutes before.
Felix Fletcher, 39, of Collingwood Road, Hayes, was found guilty of causing death by dangerous driving, vehicle theft and burglary.
Mr Da Silva, a retired mechanical engineer, died instantly when he became wedged between his vehicle and the getaway car which had mounted the pavement.
The Old Bailey jury heard Fletcher was driving at considerable speed at the time of the crash in February.
'Tireless contribution'
He drove at 70mph (112km/h), ignored road signs and hit a car on a roundabout, which slammed into the pursuing police vehicle.
After the police car was forced to stop, Fletcher sped away and struck Mr Da Silva, who was unloading his shopping at the time.
Mr Da Silva was killed 15 minutes after a homeowner reported that his car had been stolen after a burglary.
The stolen car was quickly spotted police who followed in a car with the siren sounding and blue lights flashing.
After the crash, Fletcher climbed out of the driver's side window of the Golf and ran away through rear gardens without looking back, the court heard.
The court heard that Mr Da Silva's family were "devastated".
Judge Brian Barker said Mr Da Silva had made a "tireless contribution" in all areas of his life and "still had much to give to his family".
He said Fletcher's criminal history, which included other theft and driving offences, showed he was selfish and had a "complete disregard for other road users".
Det Insp Keely Smith said: "Felix Fletcher is by his own admissions a career criminal.
"He lied throughout the investigation to hide his guilt and throughout the subsequent trial he never showed any signs of remorse.
"His flagrant disregard for the law led to the untimely death of Mr Da Silva."