Mark Duggan inquest: Jury to decide on 'gangster' claim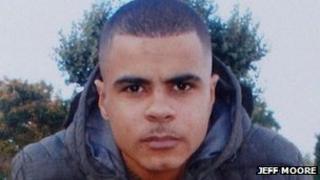 The inquest into the death of Mark Duggan will consider whether he was a "gangster" who intended to kill someone.
Mr Duggan, 29, was shot by officers in Tottenham, north London, on 4 August 2011, sparking riots in Tottenham which led to disorder in a number of English cities and towns.
An inquest can now go ahead after convicted drug dealer Kevin Hutchinson-Foster, 30, was found guilty at the Old Bailey of supplying Mr Duggan with a handgun.
The trial jury heard Mr Duggan collected the BBM Bruni Model 92 handgun in a shoebox just 15 minutes before he was killed.
Armed police, who gave evidence anonymously, described how they had opened fire on Mr Duggan on Ferry Lane because they saw him get out of a taxi holding a loaded gun.
The case has helped clarify events leading up to Mr Duggan's shooting by police; but an inquest will decide if he was lawfully killed.
'Intent to kill'
A pre-inquest hearing was told by Ashley Underwood QC, counsel for the Coroner, that the gangster question is likely to be one of the issues for the inquest jury to consider.
Mr Underwood said there had been press reports which may have been "accurate or inaccurate" suggesting Mr Duggan was "a gangster whose intent was to kill someone".
He said the jury would have to decide if that was part of the police intelligence that led to the armed operation to stop Mr Duggan and if so, "did it inform the planning" of the operation.
The jury may also have to consider why Mr Duggan was not arrested before he became armed.
Other questions Mr Underwood said the jury would need to examine included why Mr Duggan was not stopped as soon as he had taken delivery of the shoebox thought to contain a pistol.
Mr Underwood also said September's inquest would need to decide if each of the two shots fired by police at Mr Duggan were "absolutely necessary".