Occupy activists stage St Paul's pulpit protest
14 October 2012

From the section

London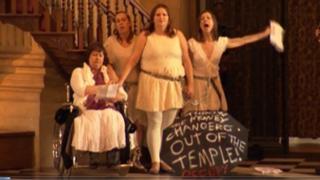 Four women from the Occupy London movement chained themselves to the pulpit in St Paul's Cathedral before later cutting themselves free.
The Very Reverend Dr David Ison, Dean of St Paul's, was taking an evening prayer service when the women in white chained themselves to the balustrade.
Cathedral staff were happy for them to remain there, police said.
The women cut themselves free at about 22:00 BST after City of London Police entered the cathedral, Occupy said.
An Occupy spokesman said they had decided to cut themselves free after being warned by officers that they faced arrest.
"They have now left the cathedral," he said. "Some of the awareness-raising they wanted to do has been done. The Dean has also agreed to meet them and talk."
It is a year since the group set up a protest camp outside the building. They remained there for four months.
'Long cold night'
Earlier, Dean Ison said he and a member of Occupy Faith, the group's religious wing, were leading a prayer when the women came up and started shouting.
The women said they had "thrown away the keys" to their padlocks.
"It will be a long cold night if they want to stay there," Dean Ison said. "I don't know what they want to do.
"I'm just sorry they have decided to do this, which makes it hard for members of Occupy Faith, who have been working together with us on something which is respectful."
Occupy London released a statement which said they were collaborating with Christianity Uncut to call for the leadership of St Paul's to "stop sitting on the fence and join the fight against rising inequality in the UK and beyond".
Pussy Riot
The women had an umbrella, spray-painted with the slogan "throw the money-changers out of the temple". Other protesters unfurled a large banner on the cathedral steps with the same slogan.
Occupy London tweeted that they were also protesting "in solidarity" with Russian punk band Pussy Riot, who were jailed in August for two years after staging an anti-Vladimir Putin protest in a Moscow cathedral.
Police maintained a presence outside the building after church staff said they were happy for the women to remain inside.
On Monday it will be a year since Occupy London pitched tents outside the cathedral in the City of London in protest against corporate greed.
Police and bailiffs removed protesters and their tents on 28 February after the High Court ruled the City of London Corporation's move to evict them was "lawful and justified".
The group accused the cathedral of "collusion with the City of London Corporation".
A member of Occupy, speaking on the cathedral steps on Sunday night, said: "We will not be silenced."
"We offered you an opportunity to live out our shared dream. In the fight for economic justice Jesus threw the money-changers from the temple. But you invited them in and instead evicted us."