Fruit and Wool Exchange plans approved by Boris Johnson
11 October 2012

From the section

London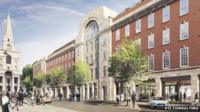 Mayor Boris Johnson has given the go-ahead to plans to redevelop an historic building in east London.
The Fruit and Wool Exchange in Spitalfields will be partly demolished to make way for office and retail space, which developers say will create 2,300 jobs.
Mr Johnson stepped in and approved the planning application after Tower Hamlets Council turned it down.
Opponents shouted "shame on you" at the mayor when he made his decision.
Dan Cruickshank, a historian who has been campaigning against the redevelopment plans, said the decision was "disappointing but expected" as the mayor had intervened.
The development has been proposed by Exemplar in partnership with the City of London.
Rab Bennetts, the architect behind the project said the facade of the building would remain but it would be integrated with the new development.
'Reduced to nothing'
It is feared the plans would mean the loss of Dorset Street, where Wedgewood china company had its first showroom and where Jack the Ripper murdered his last victim.
In June, Tower Hamlets Council said it was minded to refuse planning permission for the application, which would see most of the building demolished, the facade in Brushfield Street retained and a six-storey building erected.
Mr Johnson then said he would act as the local planning authority and determine the outcome, using powers granted to him in 2008.
Making his decision after a public hearing at City Hall, he said: "These plans will not only restore the façade to its former glory, but regenerate the Spitalfields area with thousands of new jobs, and brand new commercial opportunities.
"It will also make a vital contribution to the wider London economy and have a significant impact not just on Tower Hamlets but on surrounding boroughs as well."
Mr Cruickshank said: "We feared this would happen and it is extremely sad (that) a very fine building is going to be reduced to nothing but an elevation and great interiors lost.
"The character of Spitalfields, which is special, characterised by small businesses, independent enterprises, is going to be seriously diluted and undermined and a historic street in a conservation area, Dorset Street, obliterated."
'Extraordinary power'
The historian added that the 1920s building was not listed.
But Mr Bennetts, the architect, said: "We are keeping the facade of the existing building and integrating the new development around the back of it."
The project will not stand out as an "alien building" as it will contain brick details found in the Spitalfields area.
Ahead of the decision broadcaster John Nicolson, who lives nearby, said: "Tower Hamlets have ruled twice that the building should be retained, across party lines which is most unusual.
"But Boris Johnson has this extraordinary power, he can step in and decide that he is going to act as the planning officer for any building in London.
"It's a developer's fantasy, not least because Boris Johnson has voted for the developers in 100% of cases where he's chosen to intervene."