London bus ticket vending machines may go from 2013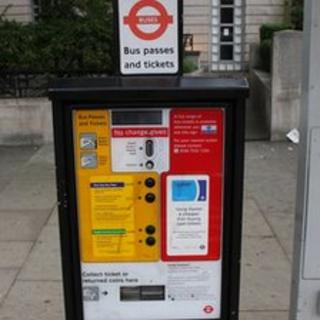 Bus ticket vending machines in central London could start to disappear from the beginning of 2013, Transport for London (TfL) has said.
Only 1% of passengers pay cash fares now compared with 20% when the machines were introduced in 2003, as people go for cashless options.
It costs £1.9m a year to maintain them and the first 100 machines could be removed as soon January, TfL said.
Buses will accept cash fares as the 420 tickets machines are removed.
TfL said the majority of 6.4 million passengers a day use travelcards or pay-as-you-go Oyster cards, as they offer cheaper fares.
No change given
The plans to remove the ticket machines received a boost from a recent consultation, the results of which TfL is currently considering.
The consultation found that some machines were used as little as once or twice a day, TfL said.
Clare Kavanagh, director of performance at London Buses, said: "The vast majority of people travelling on buses in London do so using a Travelcard or Oyster card, with only 1% paying a cash fare.
"These roadside ticket machines are used, on average, once an hour and are costing £1.9m a year to maintain.
"Following their removal cash fares will be accepted on all buses, however Oyster card remains the cheapest option."
TfL said since 2003 the machines, which do not give back any change, have collected more than £2m in spare coins, adding that any overpayments are treated as "fare incomes".