Azelle Rodney 'not fully identified until shooting'
5 September 2012

From the section

London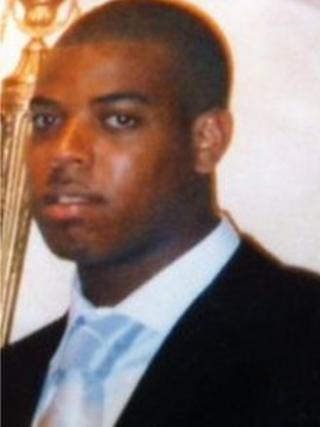 The identity of a man shot dead by police was not "fully established until after the shooting", an intelligence officer has told an inquiry.
Azelle Rodney, 24, was shot six times in Edgware, north London, in April 2005 after the car he was in was stopped.
The customs officer said they were tracking a man planning to steal drugs at gunpoint from Colombian dealers and who had links with Mr Rodney.
Officers were gathering intelligence about Mr Rodney for about a year.
Mr Rodney and two other men, Wesley Lovell and Frank Graham, were in a car followed by three unmarked police vehicles on 30 April as they thought the group were on their way to commit an armed drugs raid.
'The Principle'
Eight shots were fired, six of which hit the 24-year-old, "killing him instantly", the public inquiry into his death heard. The other men were unharmed.
Giving evidence, two customs intelligence officers - identified at the hearing only as S1 and S2 - said they did not know Mr Rodney was wanted on suspicion of grievous bodily harm at the time of the shooting.
S2 said they were tracking the activities of a man known as "The Principle" who was linked to someone with the name of "Azell" and with Mr Rodney's date of birth, whom they referred to as Associate 2.
"We considered the intelligence about the threat posed by the group to be very reliable indeed," she said.
"I am now aware that HMRC recorded intelligence linking the name "Azell" to Associate 2 on August 13 2004."
But the "pressurised situation" meant officers did not have "the luxury of time to review all intelligence gathered", S2 said.
"We were unaware of the existence of the name Azell and the partial date of birth within the record concerning Associate 2 in April 2005. Had we been aware then that this information was held we would, of course, have passed it onto the MPS (Metropolitan Police)," the officer added.
Arrested earlier
S1 said: "From April 2004, periodically for over a year we continued to gather intelligence about Associate 2.
"His full identity was not established until after the shooting. At that time the police investigation confirmed his full name as Azelle Rodney."
Ashley Underwood QC, counsel for the inquiry, asked S2 whether she would have done anything differently, to which she replied: "If I were to receive the same intelligence now I would draw the same inference and make the same assessment."
The inquiry also heard the information about the group possibly having access to a machine gun was passed on to police on 29 April 2005, the day before Mr Rodney was shot.
Lesley Thomas, barrister for Mr Rodney's family, said this information raised the prospect he could have been safely arrested earlier.
But the counsel for the Met said while the existence of the gang was known to customs intelligence officers, the name, date of birth and address of Mr Rodney was not known.