Tia Sharp death: New Addington body formally identified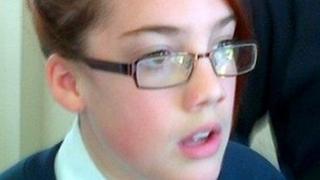 The body of a 12-year-old girl found at a house in south London has been formally identified as Tia Sharp.
Tia's body was discovered by police at her grandmother's house in New Addington last week.
Her grandmother's partner Stuart Hazell, 37, appeared in court on Wednesday charged with her murder.
A formal cause of death could not be established following a post-mortem examination and further tests are awaited, police said.
Second examination
Earlier an inquest into Tia's death was opened at South London Coroner's Court but no details about how she died were given in the five minute hearing.
Asked by Coroner Roy Palmer if the body had been formally identified, Det Sgt Eric Sword, of the Metropolitan Police's specialist crime operations unit based at Sutton, said: "From the checks that we have been able to carry out, yes."
"And that body is that of Tia Sharp?" the coroner asked.
"That is correct," he replied.
Dr Palmer told the court that once the post-mortem examination had been completed, Mr Hazell had the right to request a second examination by a pathologist of his choice.
The coroner asked for this to happen as soon as possible so that Tia's body could be released to her family.
Police apology
The inquest has been adjourned until a later date.
Mr Hazell was remanded in custody after appearing at the Old Bailey.
He is expected to make a plea on 19 November and a trial date has been set for 21 January.
Mr Hazell's partner Christine Sharp, 46, was arrested on suspicion of murder while her next-door neighbour, Paul Meehan, 39, was arrested on suspicion of assisting an offender. Both were released on bail on Sunday.
Tia's body was discovered by police on Friday after she had been missing for a week. Police have apologised to Tia's family as her body was not found by officers until after several visits.