Tia Sharp: Grandmother Christine arrested over murder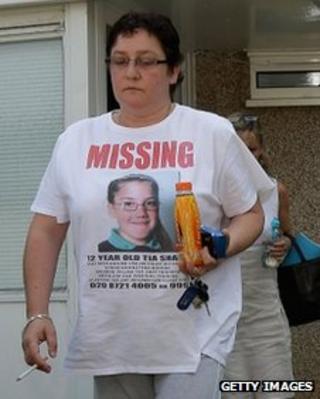 The grandmother of 12-year-old Tia Sharp has been arrested on suspicion of murder.
Christine Sharp, 46, is being questioned along with her partner, Stuart Hazell, 37, after a body was found at her home in Croydon on Friday.
The Metropolitan Police have admitted "human error" was responsible for the body not being found on the second of four searches of the house on Sunday.
The force has apologised to Tia's mother over the failing.
Tia was reported missing on 3 August, prompting a large scale search of the area surrounding Ms Sharp's home in New Addington.
The body found at Ms Sharp's home, which has not been formally identified, was reportedly removed from the house on Friday evening.
A post-mortem examination is expected in the next few days.
Along with Ms Sharp and Mr Hazell a man, 39, has also been arrested on suspicion of assisting an offender.
All three were arrested on Friday and are being questioned at a south London police station.
'Living nightmare'
Mr Hazell was detained in Merton, south London, at 20:25 BST after being identified by a member of the public.
Maxine Carter, Tia's aunt, said: "It's the worst living nightmare ever.
"It doesn't end - we are hurting so bad inside."
Despite four police searches it took a week to find the body.
The first search was of Tia's bedroom after she was reported missing, then on Sunday a specialist team searched the property.
On Wednesday another team searched the home, this time using sniffer dogs.
But it was on Friday - a week after her disappearance - the body was found.
Commander Neil Basu, the police chief responsible for south-east London, said: "Clearly there will be many questions about the investigation into Tia's disappearance and I want to take this opportunity to clarify some of the speculation.
"When police investigate cases as difficult and challenging as this, it is important that we do not just focus on one line of inquiry.
"What we now need to establish is how long the body had been in the place where it was found.
"This will be subject of the ongoing investigation and it would be wrong to jump to any conclusions until all the facts have been established."
Candles and flowers have been left outside the home where the body was found.
Nicky Taylor, 46, and Shara Kinsley, 40, lit two candles for Tia.
Ms Taylor said: "She's only a child, it's so sad."
A poem was left with a photo of Tia which described her as "heaven's little angel".