Strictly star Brendan Cole stops Tube handbag theft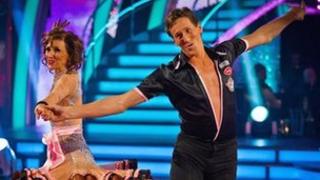 Strictly Come Dancing star Brendan Cole has explained how he stepped in to stop a man stealing a handbag at a busy central London Tube station.
The 36-year-old said he noticed a man "trying to get into a handbag" at Baker Street station on Thursday evening and decided to follow him.
The dancer said he "stopped to make a fuss" and stuck closely to the man until a police officer arrived.
British Transport Police said a man, 41, was charged with attempted theft.
Cole, who gave police a witness statement, said: "I was walking in a busy tube station and it felt like something wasn't quite right and sure enough I noticed there was a guy who was trying to get into a handbag, under his rucksack.
"I turned round and stopped to make a fuss and after I checked the girl was all right, I stuck with the guy."
"I just stuck with him until the policeman came to make sure he didn't leave. There was no argy bargy or anything."
Cole, originally from New Zealand, said he himself had been targeted by pickpockets in the past.
"I'm just really glad I saw it - some poor girl's day was about to be ruined," he added.
The 41-year-old man also faces a charge of possession of Class B drugs.