Is TfL Games Lane 'warnings not fines' tactic working?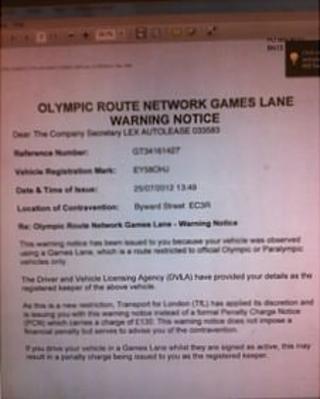 Transport Commissioner Peter Hendy always said he would have a softly-softly approach to the £130 fines for driving in the exclusive Games Lanes during the Olympics and it seems the authorities have been true to their word.
I've found out that for the first six days of the Games Lanes from 25 July, Transport for London (TfL) gave out no fines at all and only warnings.
This photo shows a warning which one of our crew cars received (the driver actually had a 'sticker' allowing him in the lane - but that's another story).
It is similar to what TfL did with the introduction of the Low Emission Zone.
It seems to be more interested in compliance and getting behaviour change rather than fining drivers.
'Sensible' system
Since the 30 July TfL has issued 2,400 tickets which it says is "low" compared to the 3,000 a day it gives out for non-compliance of the Congestion Charge.
The reason for that is 98% of drivers are complying with the rules of the Games Lanes and TfL says it will be sensible with the appeals process.
Garrett Emmerson, chief operating officer for surface transport at TfL, said: "The operation of the Olympic Route Network (ORN) and Games Lanes has gone well.
"We have no interest in unnecessarily penalising drivers and, with a very high compliance rate of around 98% to date, the overwhelming majority are following the requirement to stay out of Games Lanes when they are in use.
"In order to give drivers time to get used to the changes we've made to the road network we issued warning notices rather than Penalty Charge Notices (PCNs) during the first six days of its operation.
"We are now issuing PCNs to drivers who contravene the ORN, but will continue to be proportionate and sensible; we're seeking compliance from drivers, not income from fines.
"To date, some 2,400 PCNs have been issued."
So, how have the Games Lanes been for you? Have you been fined?
Certainly, after the initial confusion it seems the flexibility of the system has worked?
Let me know.