'Boris bikes' scheme for Belfast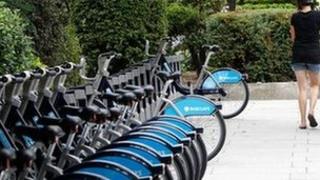 Belfast is to get its own 'Boris bike' scheme, it has been announced.
£700,000 is being awarded by the Department of Regional Development for the plan.
It will see a public bike hire scheme in the city for locals and visitors similar to the ones in Dublin and London, where the cycles have been nicknamed Boris bikes after mayor Boris Johnson.
There will be 300 bikes in 30 stands across the city.
In total the DRD is giving £4.3m to four projects designed to encourage people to walk and cycle more.
The Belfast scheme will be up and running within three years.
Craigavon gets £1.3m to improve its existing cycleways.
Londonderry gets a similar amount to create new greenways linking schools, businesses and residential areas.
Thirteen councils applied for the grant.